The MiniMed™ 670G system offers SmartGuard™ Auto Mode™, the only technology that mimics some of the functions of a healthy pancreas by providing two levels of insulin delivery for type one patients 7 years or older.
SmartGuard® AUTO MODE FEATURES:
Automatically adjusts your basal (background) insulin every five minutes based on your CGM readings.*,#
Helps keep your sugar levels in your target range for fewer lows and highs — day and night.*,#,1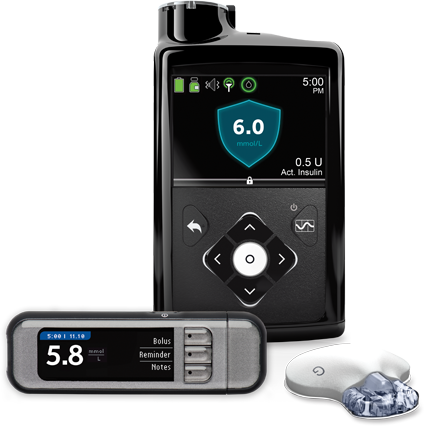 The MiniMed™ 670g system.
Water Resistance
Waterproof pump, protected against the effects of being underwater to a depth of up to 12 feet (3.6 meters) for up to 24 hours.
Sizing
The pump dimensions in inches are approximately 2.1 width x 3.78 length x 0.96 depth. The weight of the pump is approximately 3 ounces.
Environmental Conditions
The MiniMed™ 670G insulin pump system is designed to withstand most conditions encountered in your daily life. Pump storage temperature range is from -4 °F (-20 °C) to 122 °F (50 °C). Air pressure range is from 700 hPa to 1060 hPa (10.2 psi to 15.4 psi)
Pump Memory
At any time the user can review 90 days of pump history
Compatible Infusion Sets
Medtronic Diabetes provides a variety of infusion sets to fit your needs.
Guardian™ Link 3 Transmitter
Used with your pump for Continuous Glucose Monitoring (CGM). A device that connects to a glucose sensor. The transmitter collects data measured by the sensor and wirelessly sends this data to monitoring devices.
Bolus™ Speed Options

Standard: 1.5 units/minute
Quick: 15 units/minute

Bolus™ Programming Increments

0.025 units
0.05 units
0.1 units

Altitude Range

Pump operating range is from 10.2 psiA (70.33 kPa) to 15.4 psiA (106.18 kPa)
Storage range is from 7.2 psiA (49.64 kPa) to 15.4 psiA (106.18 kPa)

Backlight

Type LED (Light-emitting Diode)
Time out 15 seconds (default), 30 seconds, one minute, three minutes
Time out when battery is low 15 seconds (default), 30 seconds

Basal Delivery Rate Range
0 to 35 units per hour or the Max Basal Rate amount, whichever is lower.
Guardian™ Sensor 3
Used with your pump for CGM. The sensor is a small part of the continuous glucose monitoring system that you insert just below your skin to measure glucose levels in your interstitial fluid.
Carelink™ USB
Used to upload system data to the diabetes management software using a USB port on your computer.
One-press Serter
The serter is used as an aid for inserting the sensor. It is indicated for single-patient use and is not intended for multiple patient use.
Battery & Power
The pump requires one new AA (1.5 V) battery. For best results, use a new AA lithium (FR6) battery. The pump also accepts an AA alkaline (LR6) or a fully charged AA NiMH (HR6) nickel-metal hydride rechargeable battery.
Reservoir
Medtronic reservoir MMT-332A, 3.0 ml (300-unit)
CONTOUR®NEXT LINK 2.4 Glucose Meter
The MiniMed™ 670G system comes with a compatible meter. It wirelessly connects to your pump, allowing you to send BG meter readings to your pump.
BEST IN CLASS

TIME IN RANGE
Let your MDI patients experience the MiniMed™ 670G system.
Thanks to the MiniMed™ 670G system this patient is spending an additional 11.5 hrs each day in her target range and has an improved QOL.*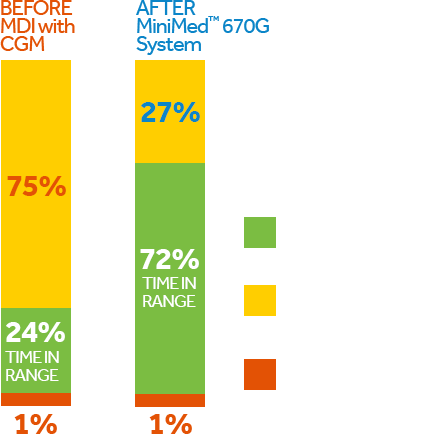 97%
of HCPs indicated they are highly likely to recommend the MiniMed™ 670G system to their patients.17
3 PATIENTS.
SAME A1C.

DIFFERENT GLYCEMIC PROFILES.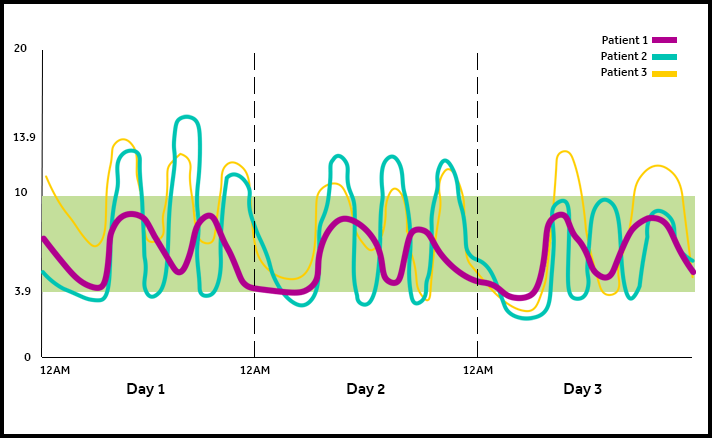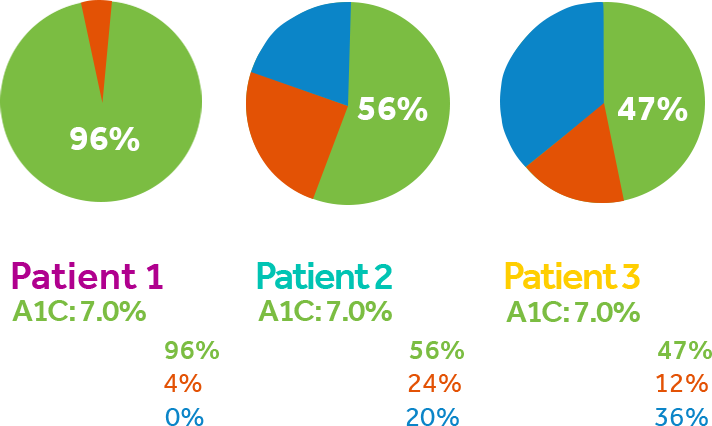 After three months on the MiniMed® 670G system, 75% of people reduced their HbA1c.6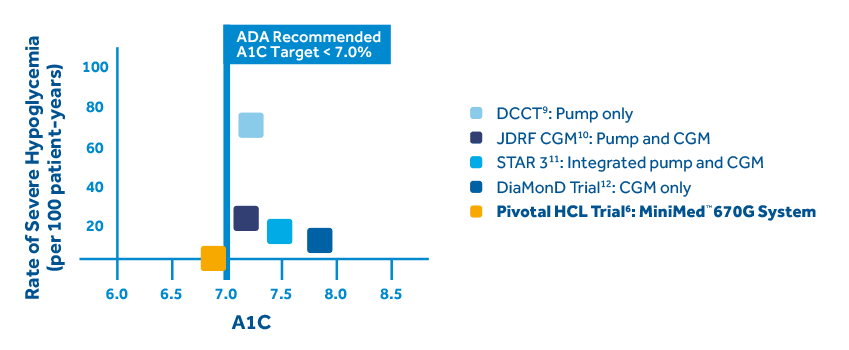 real-world results

mirror pivotal trial data