If you have patients who skip their daily injections due to the constant pain or discomfort, you're not alone. In developing the i-Port Advance™ we've created a tool that allows patients to reduce the anxiety and pain that naturally comes from having to inject multiple times a day.
The i-Port Advance™ features a built-in inserter device that allows for a quick, virtually painless insertion, while leaving a cannula under the skin. Insulin is injected through this cannula.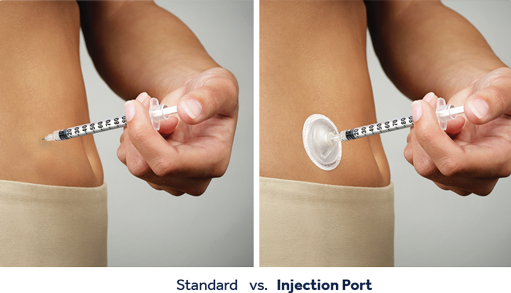 Who will benefit from i-Port Advance™?
Anyone requiring multiple daily doses of subcutaneous medication
Anyone who needs regular injections from a syringe or pen
Patients who have an aversion to needles and injections.
How does it work?
i-Port Advance™ allows for virtually painless insertion. The built-in inserter device leaves a cannula under the skin, which can be left on for up to 3 days. Patients then inject their medication through the i-Port Advance™, rather than puncturing their skin multiple times during the day. Two injection port models are available: a 6mm or 9mm cannula.
Download the training guide for more detailed instructions: