We have compiled a variety of clinical studies that you can receive upon request. These studies provide key evidence regarding the efficacy of therapies, pumps, CGM and more.
Use the filters to quickly find the information you need.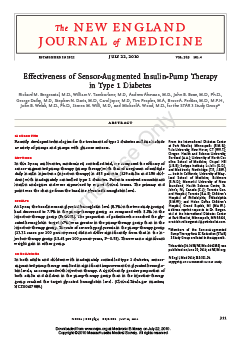 Effectiveness of Sensor-Augmented Insulin-Pump Therapy in Type 1 Diabetes (STAR3)
Publication:
Bergenstal RM et al. N Engl J Med 2010; 363:311-320.
Benefits of Sensor Augmented Pump Therapy
Purpose & design:
1 year, multicentre, randomised control trial with 485 patients to determine the effectiveness of insulin pump therapy compared to multiple daily injections.
Result:
In the sensor augmented pump therapy group, A1C values fell rapidly from baseline to 3 months and remained lower than levels in the multiple daily injections group for the rest of the study in both the adult and paediatric groups.
Mean change in A1c was -0.6% for sensor augmented pump therapy vs. multiple daily injections
Mean change in A1c was -0.6% for sensor augmented pump therapy vs. multiple daily injections in adults
Mean change in A1c was -0.5% for sensor augmented pump therapy vs. multiple daily injections in paediatrics
All subjects – 27% reached A1C targets vs. 10% on multiple daily injections. 44% vs. 20% in paediatrics
An increased frequency of sensor use was associated with a greater reduction in A1C values from baseline to 1 year (p=0.003)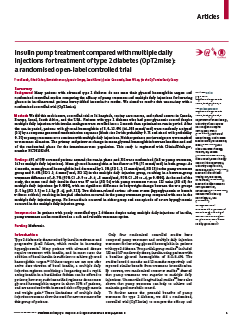 Insulin pump treatment compared with multiple daily injections for treatment of Type 2 diabetes (OpT2mise): a randomised open-label controlled trial
Publication:
Reznik et al. The Lancet. 2014. DOI 10.1016/S0140-6736(14)61037-02.
T2 Pump Therapy vs Multiple Daily Injections
Purpose & design:
Multicentre, randomised controlled trial of people (331 participants) with Type 2 diabetes not currently meeting glycated haemoglobin targets comparing the efficacy of pump treatment and multiple daily injections for lowering glucose.
Result:
At 6 months, mean glycated haemoglobin had decreased by 1·1% in the pump treatment group and 0·4% in the multiple daily injection group, resulting in a between-group treatment difference of –0·7%. At the end of the study, the mean total daily insulin dose was 97 units with pump treatment versus 122 units for multiple daily injections, with no significant difference in bodyweight change between the two groups.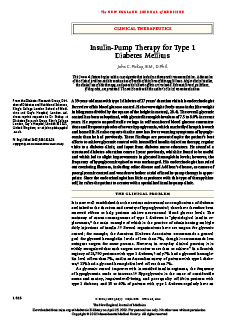 Insulin-Pump Therapy for Type 1 Diabetes Mellitus
Publication:
Pickup and Phil. N Engl J Med 2012; 366:1616-1624.
Pump Therapy vs. Multiple Daily Injections
Result:
Baseline HbA1C is an important determinant on A1C reduction with bigger decreases seen in patients with a higher starting baseline
Average HbA1c improvement on pump therapy v multiple daily injections: 0.3-0.6%
Hypo Unawareness Incidence which affects approximately 25% of type 1 patients can lead to a 6X risk of severe hypoglycaemia
Rate of hypo is over 4 times higher on multiple daily injections than with pump therapy
Overview of how pumps work, how to best initiate pumps etc.
A statement that while follow up is quite intense for the first 6 months after a pump start; the group workload for the centre often is less for pump patients than multiple daily injections patients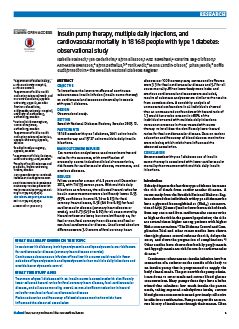 Insulin pump therapy, multiple daily injections, and cardiovascular mortality in 18,168 people with Type 1 diabetes: observational study
FILTERS:
Publication:
Steineck, I et al. BMJ 2015;350:h3234.
Pump Therapy vs. Multiple Daily Injections
Purpose & design:
A observational study of 18,168 people with Type 1 diabetes investigating the long term effects of insulin pump therapy on cardiovascular diseaes and mortality.
Result:
At follow-up was for a mean of 6.8 years compared to MDI, the adjusted hazard ratios for insulin pump treatment were significantly lower: 
0.55 for fatal coronary heart disease
0.58 for fatal cardiovascular disease (coronary heart disease or stroke)
0.73 for all cause mortality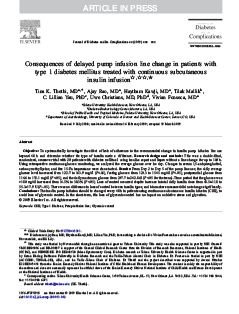 Consequences of delayed pump infusion line change in patients with Type 1 diabetes mellitus treated with continuous subcutaneous insulin infusion
Publication:
Thethi et al. J Diabetes Complications. 2010 Mar-Apr;24(2):73-8.
Changing Lines Regularly
Purpose & design:
A randomised crossover trial with 20 patients with Type 1 diabetes to investigate the lack of adherence to the recommended change in insulin pump infusion line use beyond 48h. 
Result:
From Day 2 to Day 5 of the pump line use, the daily average glucose level increased from 122.7 to 163.9 mg/dl, fasting glucose from 120.3 to 154.5 mg/dl, postprandial glucose from 114.6 to 172.1 mg/dl, and the daily maximum glucose from 207.7 to 242.8 dl. Time period that the glucose was N180 mg/dl increased from 14.5% to 38.3% (Pb.05). Loss of control occurred despite increase in total daily insulin dose from 48.5±11.8 to 55.3±17.9 U.