We have compiled a variety of clinical studies that you can receive upon request. These studies provide key evidence regarding the efficacy of therapies, pumps, CGM and more.
Use the filters to quickly find the information you need.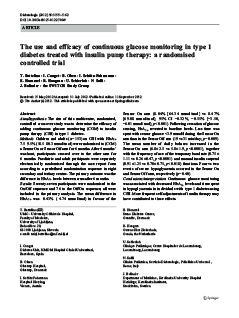 The SWITCH study (sensing with insulin pump therapy to control HbA1c): design and methods of a randomized controlled crossover trial on sensor-augmented insulin pump efficacy in type 1 diabetes suboptimally controlled with pump therapy
Publication:
Battelino T et al. Diabetes Technol Ther. 2011 Jan;13(1):49-54.
Benefits of Sensor Augmented Pump Therapy
Purpose & design:
Sensor augmented pump therapy vs CSII in adults and children (7.5%<HbA1c<9.5%). RCT, 17 months f/up, 153 pts.
Result:
A1c decreased in both age groups:
Children: - 0.46% (p< 0.001; n = 72)
Adults: - 0.41% (p< 0.001; n = 81)
Children using continuous glucose monitoring missed significantly less school days (51.9 vs. 183 days/100 pt years). Subjects performed significantly fewer SMBG during the Sensor On period (daily median 4.9 vs. 5.5).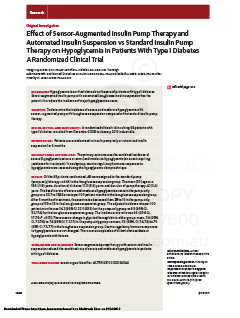 Effect of sensor-augmented insulin pump therapy and automated insulin suspension vs standard insulin pump therapy on hypoglycemia in patients with type 1 diabetes: a randomized clinical trial
FILTERS:
Publication:
Ly TT et al. JAMA. 2013 Sep 25;310(12):1240-7.
Benefits of Low Glucose Suspend
Purpose & design:
RCT comparing the rates of severe hypoglycaemia (coma/seizure) in patients using CSII versus Sensor Augmented Pump therapy with the Low Glucose Suspend feature ON over a 6 month period in 95 children and adults with impaired hypo awareness.
Result:
Significant reduction in the number of severe hypoglycaemic events from 21.9 to 0.0 events/100pt-yrs (low glucose suspend-On group)vs. 24.8 to 26.7 events/100 pt-yrs in the CSII group (p=0.017) 
Significant reduction in exposure to glucose values below 70mg/dl and 60mg/dl in the low glucose suspend group compared to control (p=0.006 and p=0.009 respectively)
Reduced fear of hypoglycaemia was shown in the low glucose suspend group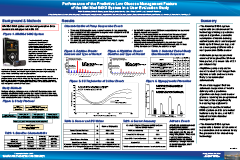 MiniMed® 640G User Evaluation
Publication:
Choudhary. ADA Poster Presentation June 2015.
Predictive Low Glucose Managment
Purpose & design:
40 subjects with Type 1 diabetes were enrolled at 3 European centers and provided with MiniMed® 640G systems for 4 weeks.
Result:
Average of 2.1 pump suspends per day
In 83.1% of the suspend before low events where the pump stopped delivering insulin, the SG value never reached the pre-set low limit
The overall mean (±SD) duration of an automatic pump suspension event was 56.3±9.5 min
The mean SG nadir following pump suspensions was 70.3±7.1 mg/dL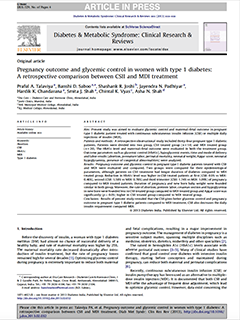 Pregnancy outcome and glycemic control in women with Type 1 diabetes: A retrospective comparison between CSII and multiple daily injections treatment
Publication:
Talaviya et al. Diabetes Metab Syndr. 2013 Apr-Jun;7(2):68-71.
Pumps in Pregnancy
Purpose & design:
Retrospective observational study of 34 pregnant Type 1 patients (pump therapy n=14 / multiple daily injections n=20) to evaluate glycaemic control and maternal-fetal outcome.
Result:
Reduction in A1C was greater in all 3 trimesters when CSII was used
Duration of pregnancy and birth weights were the same in both groups
Rate of abortion, preterm labour, caesarean section and newborn hypoglycaemia were all better in CSII treated pregnancies
Daily insulin requirements were less in CSII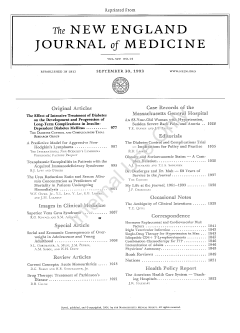 The Effect of Intensive Treatment of Diabetes on the Development and Progression of Long-Term Complications in Insulin-Dependent Diabetes Mellitus (DCCT)
Publication:
Nathan et al. N Engl J Med 1993; 329:977-986.
Benefits of Treating to Target
Purpose & design:
1,441 patients randomised control trial comparing complications of conventional therapy vs intensive management via pump or multiple daily injections.
Result:
Intensive cohort reduced adjucted mean risk for developing the following:
Retinopathy by 76%
Nephropathy by 56%
Neuropathy by 60%