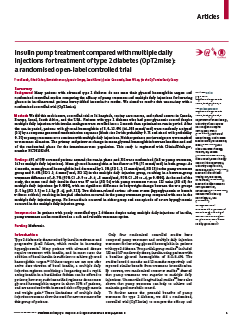 Insulin pump treatment compared with multiple daily injections for treatment of Type 2 diabetes (OpT2mise): a randomised open-label controlled trial
Purpose & design:
Multicentre, randomised controlled trial of people (331 participants) with Type 2 diabetes not currently meeting glycated haemoglobin targets comparing the efficacy of pump treatment and multiple daily injections for lowering glucose.
Therapy supported:
T2 Pump Therapy vs Multiple Daily Injections
Result:
At 6 months, mean glycated haemoglobin had decreased by 1·1% in the pump treatment group and 0·4% in the multiple daily injection group, resulting in a between-group treatment difference of –0·7%. At the end of the study, the mean total daily insulin dose was 97 units with pump treatment versus 122 units for multiple daily injections, with no significant difference in bodyweight change between the two groups.